Who is Aaron Hemsley?
» AaronHemsley.com » Who is Aaron Hemsley?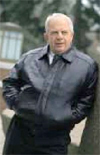 Aaron is a former agency manager and member of the life insurance industry's Million Dollar Round Table. Aaron is the only person to win the "speaker of the year" award at the Securities Industries - Wharton School of Business annual meeting more than once. He was named the life insurance industries Million Dollar Round Tables "outstanding speaker." He has conducted seminars and workshops for most of the major life insurance and brokerage firms. When speakers are rated, few people have ever rated higher than Aaron Hemsley.
Part of the reason is the information, and the other part is the presentation. Few people possess the depth of knowledge and the personality to change as many lives as Aaron Hemsley. In more than twenty five years of working with sales organizations, Aaron has been invited back to conduct additional programs for sales and management organizations one hundred percent of the time. A skilled teacher, Aaron Hemsley mixes infectious humor and dramatic illustration with detailed practical instructions. Aaron turns each presentation into a remarkable learning experience.
Aaron teaches teachers how to improve their teaching skills. Aaron has taught in the professional development programs at the Universities of Tennessee, Texas Tech, North Carolina State, Notre Dame, Alabama, UCLA and USC. Aaron has consulted with five major universities and three U.S. Olympic teams in how to use psychological techniques to improve performance. The book Aaron co-authored, Managing Sales People, is used in the Masters Program at the American College of Life Underwriters. He has authored more than 200 articles on performance psychology and the sales process. His books include:
The Sleep Diet, how to sleep two hours less and simultaneously increase your energy.
Maximizing Marriage, Relationship building after all the children are gone.
The Psychology for Making Weight Loss Permanent.
Raising Happy, Confident, High Achieving Children.
His programs on Maximum Sales Performance, Breaking Through Plateaus and Creating an Addiction to Prospecting are not only cutting edge programs, he is the person who conducted the research and validated every change technique. No one has introduced as many career and life changing techniques during the last two decades than Aaron Hemsley. They use psychological techniques to confront and eliminate problems that create production problems. Aaron provides specific exercises and explains how and why they bring about change. Participants learn how to make commitments and how to make the commitment to their commitments.
Fascinated by why so many talented high achievers fail to live up to their potential, Aaron has devoted 30 years to studying the critical differences in salespeople. He has proven that top producers are not born - they are made. They are not super humans with special talents - they are ordinary people with extra ordinary emotional strength.
Aaron's cutting edge programs offer the first real psychological training that salespeople can use to confront and eliminate the problems that force them to underachieve. Aaron Hemsley promises no miracles, but the approach outlined in his programs have been validated in double blind studies on sales people.
In past years, The Philadelphia Inquirer, The Miami Herald, The Chicago Tribune, and The San Francisco Examiner have all featured articles about Aaron Hemsley's career changing techniques. Previously, the price of self-improvement has been high, these programs reduce that price - dramatically.